Date: Sunday 10th October 2010
Route: Coypool, Princetown, Coypool.
Riders: James, Nick, Stephen, Paul, David, Glen & James.
Depart: 10:15am
Return: 1:15 - 2:15pm
Distance: 35 miles
Weather: Dry & windy

Tour De Moor 10.10.10

Aye, aye, what's this then eh? 8.50am on a Sunday morning and I'm being loaded on top of a car, next to……, cor, what a stunner. Look at the frame on her! White, gleaming and pristinely clean.

"Where are we off to, gorgeous?", I ask. Somewhat primly she responds, "Does your Meister not tell you anything? We're doing a charity ride for St Luke's Hospice who are organising a 7 mile and a 35 mile bike ride across Dartmoor." "Oh", I say, "7 miles – that's nice – that should get El Gordo sweating nicely."

"7 miles?", she says, looking down her front forks. "Routemeister does that as a little warm up at 7 o'clock each Tuesday evening. We're doing the 35 mile run." I'm stunned. "Pull my big chain ring", I say. "You're having a laugh. El Gordo's never done anything like that in a week, let alone in a day." "No", she says, " it's true. The Meisters have been putting in some training for today – Meister Robinson's bike tells me he has already done 100 miles in just the last week."

"Hmm", I think, "this could be interesting. The Fat One's training this week has consisted of two dinners and three lunches out, drinking wine instead of beer, just the one pack of fags and no cycling at all. I just hope he's remembered to bring his mobile so he can call for his support team to pick me up when he's completely shattered and incapable of riding back."

Musing on the potential prospect of finally having a decent run out for the first time in my life, I'm unloaded from the car and after some milling around we set off to a Radio Plymouth fanfare in the company of another 30 bikes.

The first mile up the Plympton cycle track bodes well. El Gordo is keeping up and is on another GOWCC bike's wheel. No signs of heavy breathing. He's even making conversation. But no, I speak too soon. It's only because the track is too narrow and there are too many bikes around that GOWCC is not sprinting ahead. After the second mile we're 100 yards behind but still in touch, just. After three miles we've lost sight of them. There is a lot of puffing coming from above and my saddle is already beginning to groan from the immense stresses being placed upon it. This could be a very long day…..

We catch up with Meisters Carter, Horler and Woodbridge-Harris near Goodameavy on account of they having stopped and waited for us. Apparently Routemeister has already forged ahead with Meisters Wheeler and Robinson and abandoned the mere mortal Meisters to their own devices.

Off we go again, only to immediately struggle up what is admittedly a tricky little hill which El Gordo still has yet to climb without dismounting. Fortunately he recovered his breath sufficiently to look cool when passing by a large bear in a GOWCC shirt seemingly operated by Meister West. We finally catch up with the mortal Meisters at Yelverton for photo shoots taken by Meistress Jo and MiniMeister Carter. Taking advantage of the downslope, El Gordo pauses only momentarily to wave back at the Routemeistress and MiniRoutemeisters while forging ahead to Meavy. By which time the mortal Meisters have caught up with him. And in turn forge ahead up to the top of Burrator Reservoir where they again await El Gordo's presence. Which was delayed on account of the hill up from the Royal Oak, even though no traversing took place and much to my and El Gordo's surprise we even overtook some other bikes.





And that was the last we saw of any Meister until we returned to Plympton some four and a bit hours after starting, via the railway line up to Princetown (El Gordo crouching down to minimise wind resistance – very sensible), a Mars Bar, South Hessary Tor, a very muddy and knee deep puddle, Nun's Cross, Scout Hut, another Mars Bar, Brisworthy, Hoo Meavy , Clearbrook, a strange encounter with a horse in the tunnel and big chain ring all the way to Plympton.

Back on top of the car I whisper to Routmeister's bike, "And how was it for you darling?" "Ooooh, Routmeister's a delight. Light, powerful, fantastic rhythm and cadence, we whizzed round in under three hours. It was a breeze". Oh, to be Routmeister's bike.

Report by David's Bike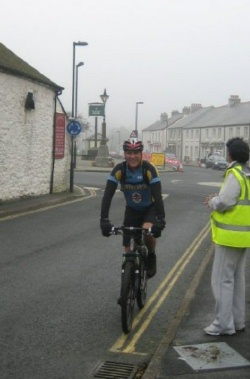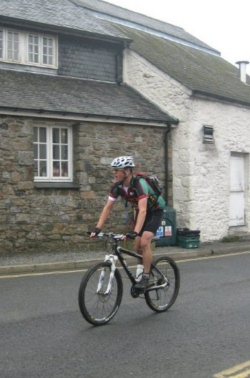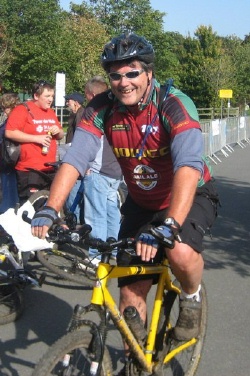 Paul & Stephen speeding through a gloomy Princetown & David managing a smile at the finish (above)
The magnificent seven with their hard earned medals (below)